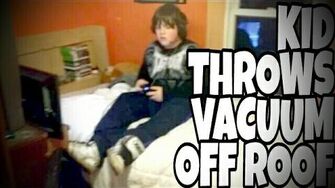 William Throws the Vacuum Off the Roof was posted on May 26, 2015 and is the 38th video on the "William's Raging Series Playlist". It has received over 560,000 views as of June 27, 2016. It is the 3rd most popular video on Violette1st's channel as of June 27, 2016.
The video begins with Violette trying to get William to get off the Xbox and vacuum. When he refuses by screaming "I said later, Mom", William throws the vacuum cleaner off the roof and tells Violette that he will show her vacuuming.
Things Destroyed
Edit
| Victim | Destructor | Method | Victim's Final Results |
| --- | --- | --- | --- |
| Vacuum Cleaner | William | Thrown off the roof | Unknown |
Ad blocker interference detected!
Wikia is a free-to-use site that makes money from advertising. We have a modified experience for viewers using ad blockers

Wikia is not accessible if you've made further modifications. Remove the custom ad blocker rule(s) and the page will load as expected.