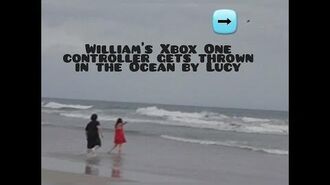 William's Xbox One controller gets thrown in the ocean by Lucy was uploaded on March 27, 2016 and is the 23rd video on the "William's Raging Series Playlist". It has over 100,000 views as of June 28, 2016.
Violette finds out that William snuck his Xbox One into his luggage after he agreed that he would not play video games while on vacation in Daytona Beach. Violette repeatedly asks William to turn his Xbox off and he does not. Violette then asks Lucy to turn it off. William tries to stop Lucy, but Lucy turns the Xbox off and runs away with his controller. Violette can be heard screaming for William and Lucy. Lucy then throws the controller in the ocean. William goes to retrieve his controller only for it to be broken.
Things Destroyed
Edit
Victim
Destructor
Method
Victim's Final Results
William's Xbox One controller
Lucy
Thrown in the ocean
No longer functions;

replaced
Ad blocker interference detected!
Wikia is a free-to-use site that makes money from advertising. We have a modified experience for viewers using ad blockers

Wikia is not accessible if you've made further modifications. Remove the custom ad blocker rule(s) and the page will load as expected.