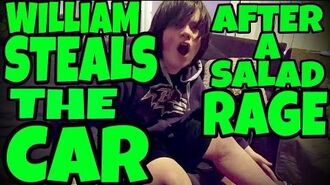 The video begins with William wanting something to eat, so his mom made him a salad. then she sees him fell asleep when he wakes up and when he looks at the salad but he wasn't impressed and he tells his mom that he is not going to eat the salad and tells her to shove it up her behind. Now William wants his mom to take him out to Arby's she tells him no especially after when he told her to shove the salad up her behind this cause William to get mad and takes the car to go to Arby's. As for getting in trouble for stealing the car William's Mom was disappointed because she tries to call him but he did not answer his phone when he came back and then tries to send him a message saying get some mozzarella sticks. And then he goes upstairs to eat his dinner.
Ad blocker interference detected!
Wikia is a free-to-use site that makes money from advertising. We have a modified experience for viewers using ad blockers

Wikia is not accessible if you've made further modifications. Remove the custom ad blocker rule(s) and the page will load as expected.