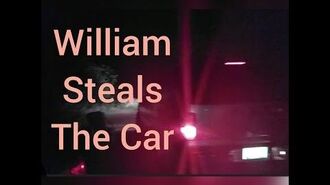 The video takes place after William destroyed his controller from an Xbox rage in WILLIAM DESTROYS CONTROLLER DURING AN XBOX RAGE. Now, he wants his dad to take him to GameStop in order to get a replacement for his Xbox 360 controller, but he refuses for everything he has destroyed. His mom cannot take him until tomorrow because she is busy. The arguing continues until William decides to go outside. He tells them that he is not walking, but they think he is riding his bike. However, his parents hear him beep the car horn, and then he steals the car.
Ad blocker interference detected!
Wikia is a free-to-use site that makes money from advertising. We have a modified experience for viewers using ad blockers

Wikia is not accessible if you've made further modifications. Remove the custom ad blocker rule(s) and the page will load as expected.