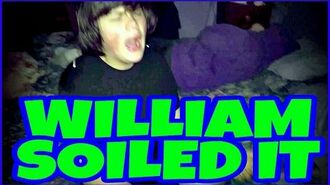 WILLIAM SOILED IT!!! (RAGE) is a video uploaded to the Violette1st channel on March 5, 2017.
The video begins with Andy running into William's room asking him to help him cheer up Violette, who is sad about the lost audio and the fact that William ruined their clothes shopping night. When he wakes up, he forces Violette out of bed and into the living room to watch TV. William is reluctant, and the video ends in an argument.
This is the first episode where the video was entirely filmed by Andy.
In the beginning of the video, Violette repeatedly yelled "soiled it!" similarly to SpongeBob in "The Algae's Always Greener".
This episode is one of the few where William repeatedly shouts to his mother "Shut up!!!".
Ad blocker interference detected!
Wikia is a free-to-use site that makes money from advertising. We have a modified experience for viewers using ad blockers

Wikia is not accessible if you've made further modifications. Remove the custom ad blocker rule(s) and the page will load as expected.