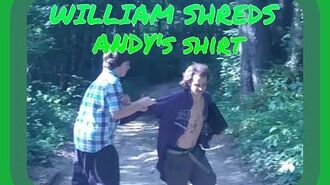 William shreds Andy's shirt is a video posted on the violette1st channel on July 21, 2016 and is the 49th video in the William's raging series playlist.
The video begins with William wanting to get Andy back for destroying his snake in ANDY DESTROYS WILLIAM'S KING DOMINOS SNAKE. So he gets scissors and cuts them. They weren't working well so they switch to better ones. William then writes "R.I.P Snake" and Andy wakes up to find his shirt ripped. He goes to get William's Xbox One and goes outside with it. William tries to get it back, but Andy says the Xbox is him now.
Ad blocker interference detected!
Wikia is a free-to-use site that makes money from advertising. We have a modified experience for viewers using ad blockers

Wikia is not accessible if you've made further modifications. Remove the custom ad blocker rule(s) and the page will load as expected.