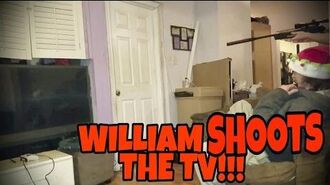 Violette wants to do family night and watch Christmas movies on William's Xbox because Andy wasn't at thanksgiving. This gets William triggered and won't allow it. This triggers Violette too and she takes the Xbox. This, however, only makes William go crazy and gets a gun. He threatens them first, but he goes to the TV and shoots it. Violette screams and then William got a tool and smashes the screen off. William's mom yelled "OH MY GOSH WILLIAM NO!!!!" and makes him take the TV outside. He laughs and lays off the TV, making Andy force William to take the TV outside. He also tries to get his Xbox, but Andy fought him and Violette took the Xbox and slammed it on the TV. William tries to get it, but Andy tackles him and they fight.
Characters
Edit
Ad blocker interference detected!
Wikia is a free-to-use site that makes money from advertising. We have a modified experience for viewers using ad blockers

Wikia is not accessible if you've made further modifications. Remove the custom ad blocker rule(s) and the page will load as expected.