"WILLIAM SHATTERS THE DISHES!!!" is a video posted on the violette1st YouTube channel and is the 53rd video in Williams Raging Series Playlist.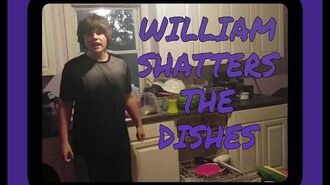 The video starts with his mom saying that William needs to get off the Xbox and do the dishes, but William refuses. He later gets off the Xbox to do it when his mom threatens to turn off the internet. But when William puts the dishes in the dishwasher wrong, his mom mocks him before he shatters the plates and makes a mess on the floor with the soap & water. After that, he makes his mom clean it and goes to play Xbox before his mom turns off the internet.
Ad blocker interference detected!
Wikia is a free-to-use site that makes money from advertising. We have a modified experience for viewers using ad blockers

Wikia is not accessible if you've made further modifications. Remove the custom ad blocker rule(s) and the page will load as expected.