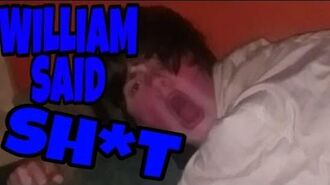 The video starts with William's mom wanting to spy on William while he plays video games. During that, William happened to say s**t. This causes his mom to flip out and tell Bill and they both go see what William was thinking and his mom claims that William can become a thug now that he cusses. William tells his parents to get out of his room, but they refuse, saying that this is their house which leads to an argument. The video ends with William in bed and Violette telling him again not to cuss, triggering William.
This video is originally going to be a vlog video for Violette1st's second account, Violette2nd, but due to William said s**t on this video, this video is now Violette1st's William raging video.
Oddly enough, she doesn't blast Bill for the horrible language he was using.
William also said the word shit in SISTER BAKES BROTHER'S XBOX CONTROLLER IN OVEN INSIDE CAKE!!!.