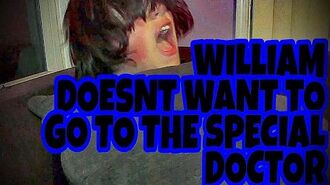 Today, William needs to see his psychological doctor, but William says no as he claims that he is watching SpongeBob Squarepants. Violette gets him off just to go there, but William refuses and says that his doctor is rude for asking questions. They fight, argue and Violette even says he will kick his donkey a** because he was acting cringy. She did made a sandwich for him after he insist, but he ruined it by throwing it on the floor. The video ends with William screaming "Screw You!" to Violette and both of them saying "Blah Blah Blah" to each other.
Ad blocker interference detected!
Wikia is a free-to-use site that makes money from advertising. We have a modified experience for viewers using ad blockers

Wikia is not accessible if you've made further modifications. Remove the custom ad blocker rule(s) and the page will load as expected.