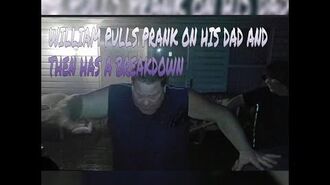 After Bill slammed cake in William's face in FURIOUS FATHER SMASHES CAKE IN WILLIAMS FACE, William decided to prank him by spraying water using the water hose. But unfortunately, it failed as Bill was still being mean to him. Later William is upstairs in his room crying on his bed, and Violette tries to calm him down. Bill also comes in, which makes William even more upset than he already was.
Ad blocker interference detected!
Wikia is a free-to-use site that makes money from advertising. We have a modified experience for viewers using ad blockers

Wikia is not accessible if you've made further modifications. Remove the custom ad blocker rule(s) and the page will load as expected.