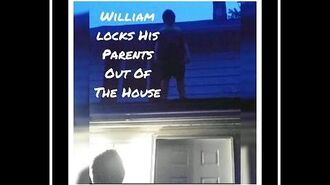 Violette has taken William's Xbox away from him because he and Bill aren't getting along lately. William wants to find where his mother put his Xbox. It wasn't in the car cause she didn't put it there. He runs back in the house to look and then locks the door so that Bill and Violette can't get back in. Unfortunately, Bill has his keys in the house and now they are stuck out here until William opens the door. The video ends with him with his Xbox and goes up to his room with it instead of actually spending family time.
Ad blocker interference detected!
Wikia is a free-to-use site that makes money from advertising. We have a modified experience for viewers using ad blockers

Wikia is not accessible if you've made further modifications. Remove the custom ad blocker rule(s) and the page will load as expected.