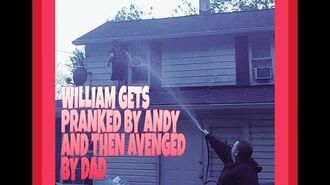 The video starts off with Andy (who is recording with the camera) going up to William's room. He tells him that he locked Violette and Bill outside the house and that William should go tease them on the rooftop. William does this, but Andy rolls the window shut and starts laughing. William starts to get angry and asks why Andy is laughing. Violette appears next to him and teases William while he was outside on the rooftop. Violette takes the camera outside with her and records William on the roof yelling. Bill starts laughing and decides to let William back in, but he comes out and sprays William with a hose. Violette yells at Bill, saying that this time the prank has gone too far. Violette demands Andy to let William back into the house. Then, Andy goes inside
Ad blocker interference detected!
Wikia is a free-to-use site that makes money from advertising. We have a modified experience for viewers using ad blockers

Wikia is not accessible if you've made further modifications. Remove the custom ad blocker rule(s) and the page will load as expected.