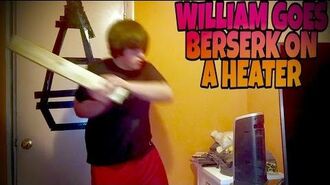 William is mad cause he can't get the heater working. So he hits it with multiple items. He even writes I'm a stupid heater on it. It turns out that the heater wasn't plugged in, but William thinks the heater is broken now as he threw it out the roof, slammed it with a wood plunk and he drowns it in the pool, destroying it.
Ad blocker interference detected!
Wikia is a free-to-use site that makes money from advertising. We have a modified experience for viewers using ad blockers

Wikia is not accessible if you've made further modifications. Remove the custom ad blocker rule(s) and the page will load as expected.