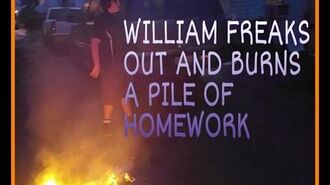 WILLIAM FREAKS OUT AND BURNS A PILE OF HOMEWORK was uploaded on April 28, 2016 by Violette1st.
Violette wants William to finish doing his homework. He only has seven more weeks of school left before graduating. When William refuses, he throws his papers at his mother. She wants him to pick them up. And instead of asking his mother to help him, William decides to burn his homework. He then puts it on the ground then finds a lighter in the garage his mother hid so that he couldn't find it. It's too late now as William already burned his whole homework. He can't even finish it.
Ad blocker interference detected!
Wikia is a free-to-use site that makes money from advertising. We have a modified experience for viewers using ad blockers

Wikia is not accessible if you've made further modifications. Remove the custom ad blocker rule(s) and the page will load as expected.