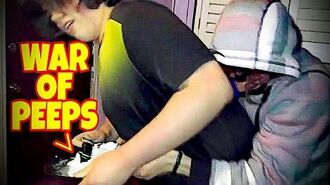 Violette has got a big Paw Patrol pillow for Zack and Peeps for Andy. William got jealous of Andy because he got candy and he didn't. His mom says that William ate his candy, but William didn't care. Andy did a trick that they used to do when they were little. This only makes William even more furious and he microwaves the Peeps and he squashed the Peeps with a knife, ruining it.
Ad blocker interference detected!
Wikia is a free-to-use site that makes money from advertising. We have a modified experience for viewers using ad blockers

Wikia is not accessible if you've made further modifications. Remove the custom ad blocker rule(s) and the page will load as expected.