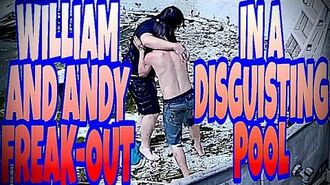 Violette wants to clean out the pool. So she gets Andy to help, but William doesn't want to. So Andy tortures William a little to get him to go. There was conflict when William was pouring the water the wrong way. It lead to Andy and William splashing water at each other and William's pants falling off.
Ad blocker interference detected!
Wikia is a free-to-use site that makes money from advertising. We have a modified experience for viewers using ad blockers

Wikia is not accessible if you've made further modifications. Remove the custom ad blocker rule(s) and the page will load as expected.