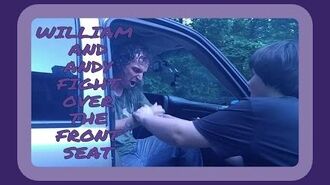 Before going on their trip to Gettysburg, William and Andy are having trouble who should sit in the front of the car. William pushes Andy out, pours water, and beats him with a banana. The aftermath shows that William decided to let Andy sit in front and him sit in the back.
Ad blocker interference detected!
Wikia is a free-to-use site that makes money from advertising. We have a modified experience for viewers using ad blockers

Wikia is not accessible if you've made further modifications. Remove the custom ad blocker rule(s) and the page will load as expected.