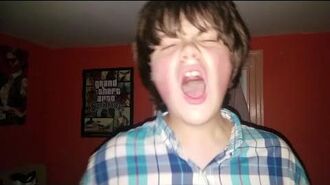 "WILLIAM'S BACK TO SCHOOL FREAK-OUT!!!" is a video posted on September 1st, 2016 and is the 62nd video on the raging series playlist.
William explains that his teacher gave him homework on the first day and he doesn't want to do it. After many tries, William shoots the homework, burns it and even flushes it down the toilet. His mom made him stay in his room for the rest of the night as a punishment.
Ad blocker interference detected!
Wikia is a free-to-use site that makes money from advertising. We have a modified experience for viewers using ad blockers

Wikia is not accessible if you've made further modifications. Remove the custom ad blocker rule(s) and the page will load as expected.