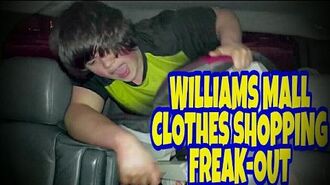 William doesn't want to go clothes shopping, but Violette wants to. She introduces him to many things, but he isn't interested. She then locks him out and he ends up going in the trunk. This gets him stuck and his mom had to free him.
The video's audio was cut halfway to the video. They couldn't find the solution to the problem so they just added captions to tell what's going on.
Ad blocker interference detected!
Wikia is a free-to-use site that makes money from advertising. We have a modified experience for viewers using ad blockers

Wikia is not accessible if you've made further modifications. Remove the custom ad blocker rule(s) and the page will load as expected.