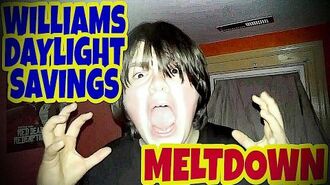 The video starts with Violette asking William if he set his clock to a certain time, but he did, but it was set back to 2 hours. He blamed the Daylight Savings Association and Violette didn't believe him. He tried to show it on his phone, but it didn't work and he almost breaks it. He gets mad and he even fingers the sky, triggering Violette.
This is the first time William used the middle finger.
This is also the first time that William tried to copy Violette's Jibberish Talking
William also used the middle finger again in WILLIAM AND ANDY IN THE WAR OF PEEPS!!!
Ad blocker interference detected!
Wikia is a free-to-use site that makes money from advertising. We have a modified experience for viewers using ad blockers

Wikia is not accessible if you've made further modifications. Remove the custom ad blocker rule(s) and the page will load as expected.