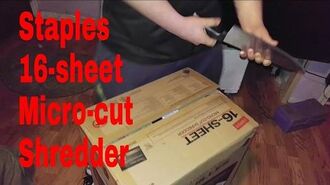 Violette buys a new paper shredder since her old one keeps getting jammed. This shredder is unique as it can shred up to 15 papers in one shot. They test it out on many things like junk mail, DVDs and even a expired credit card. Andy got to see the shredding happening and he shouted the f word in excitement.
Ad blocker interference detected!
Wikia is a free-to-use site that makes money from advertising. We have a modified experience for viewers using ad blockers

Wikia is not accessible if you've made further modifications. Remove the custom ad blocker rule(s) and the page will load as expected.