As much as I love the fandom user memes, don't make them too disrespectful. I recently causing a user posting this on the fandom user meme wall: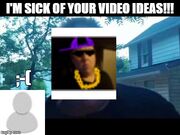 Feeling mildly dissed, I gave him a 3 day block. To be clear, that's not how I want me and other admins to be portrayed. In the future, respect other users while making memes. The memes are supposed to be funny, not rude!
Ad blocker interference detected!
Wikia is a free-to-use site that makes money from advertising. We have a modified experience for viewers using ad blockers

Wikia is not accessible if you've made further modifications. Remove the custom ad blocker rule(s) and the page will load as expected.