Last time, we talked about how everyone need to cool down about adding SeaWorld in the title. Well, now the cancerous video ideas party decided to trash a new victim: TATTLETAIL.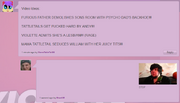 I recently caught one user taking it too far by adding exessive sexual references in the titles with TattleTails on it. I deleted the comment and blocked the user for it.
Guys, do you really want a rule banning all video ideas? This is gonna have to stop. Especially with the TattleTails. And if you wanna add TattleTails on it, then you may wanna have to consider this chart:
Ok
WILLIAM'S TATTLETAIL FREAK-OUT!!!
ANDY FAILS TO EXPOSE MAMA TATTLETAIL'S STORY!!! (RAGE)
Not Ok
FURIOUS FATHER BURNS DOWN THE WAYGETTER HEADQUARTERS SO NO MORE TATTLETAILS CAN BE SOLD!!!
GREATEST TATTLETAIL BANGING EVER!!!
So now you know what to post and what NOT to post. Have fun and also follow the Rules.
Ad blocker interference detected!
Wikia is a free-to-use site that makes money from advertising. We have a modified experience for viewers using ad blockers

Wikia is not accessible if you've made further modifications. Remove the custom ad blocker rule(s) and the page will load as expected.