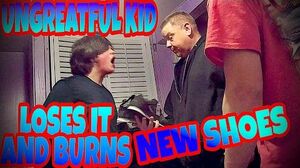 Bill bought William new shoes from Walmart. He and Andy thought they were nice, but Violette thought William won't like it. When he sees the shoes, he says it's ugly. He then proceeds to burn it. Andy then use one of the shoes as a talking shoe, agitating William.
Ad blocker interference detected!
Wikia is a free-to-use site that makes money from advertising. We have a modified experience for viewers using ad blockers

Wikia is not accessible if you've made further modifications. Remove the custom ad blocker rule(s) and the page will load as expected.