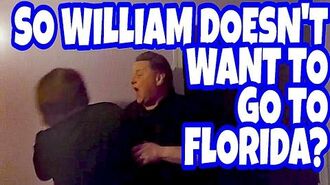 William promised to his mom that he could pack up his suitcase for their trip to Florida hours ago after what happened to the last video KID TORCHES COUSIN'S LUGGAGE OVER VACATION DISPUTE!!!. But when she saw that he didn't do anything, William tells her that he's staying home instead of actually going. This makes her upset and tells Bill to come up to his room. Bill then takes the Xbox with him in his car. The video ends with William chasing after him.
Ad blocker interference detected!
Wikia is a free-to-use site that makes money from advertising. We have a modified experience for viewers using ad blockers

Wikia is not accessible if you've made further modifications. Remove the custom ad blocker rule(s) and the page will load as expected.