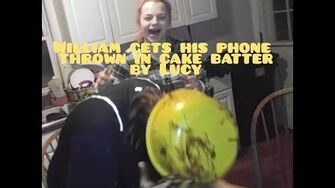 LUCY THROWS WILLIAMS PHONE IN CAKE BATTER was a video first uploaded in March 20, 2016 and is the 17th video in the "William's Raging Series Playlist".
The video begins with William complaining about how Lucy is making cake. His mother insist that he is gonna eat the cake and that's that. But he says "no" so his mom says that he won't eat any cake.
William then goes to leave and play xbox. But then Lucy grabs his phone and puts it in the cake bayter. William then receives the "cake covered" phone only for Lucy to pour the cake in William. She then smashes the phone with a hammer, destroying it for good.
William's mom got mad because now no one in the family has a phone. William then proceeds to wash his hair and the video ends.
Things Destroyed
Edit
| Victims | Destructor | Method | Victims Final Results |
| --- | --- | --- | --- |
| William's Phone | Lucy | Put in the cake batter | Destroyed and covered in cake |
| William | Lucy | Poured the cake on | Head covered in cake; Cleaned |
Ad blocker interference detected!
Wikia is a free-to-use site that makes money from advertising. We have a modified experience for viewers using ad blockers

Wikia is not accessible if you've made further modifications. Remove the custom ad blocker rule(s) and the page will load as expected.