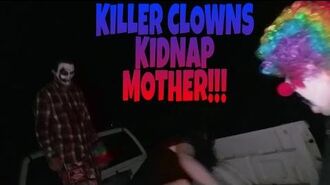 The video starts with Violette scared as someone is knocking on the door and she can't figure out who it was. It was two killer clowns that wanted to kidnap Violette. They succeed and William took the camera and tried to stop them, but one of them had a chainsaw. It was eventually revealed to be a prank and that the clowns were Bill and Andy.
Ad blocker interference detected!
Wikia is a free-to-use site that makes money from advertising. We have a modified experience for viewers using ad blockers

Wikia is not accessible if you've made further modifications. Remove the custom ad blocker rule(s) and the page will load as expected.