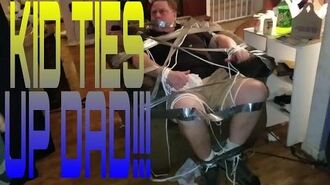 William's mom had bought him a new TV and headset because she felt bad for William not getting any birthday presents.She also bought them for him because of his biggest freak-out ever, but was afraid that Bill won't approve. So William tied him up. When Bill woke up, he was shocked of the TV and wanted him to untie him, but William drank his Mtn Dew and ate his tacos. He then moves the TV and headset to his room.
This is the first time Bill has blamed Andy for a thing that Violette doesn't like. In this case, drinking.
Bill Can Be Heard Cursing While Muffled.
There is speculation that this is fake because there was no sound while tying Bill up and duck tape makes a loud sound when you spread it around and Bill was seen moving while William was tying him up.