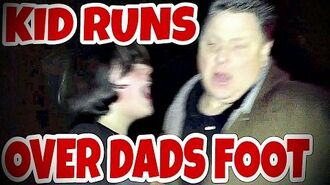 Bill: Where d'you go with my truck, jerk!
William: I went to frickin GameStop but they were closed, i had to buy this from Walmart so, 
Bill: YOU BOUGHT IT FROM WALMART,  
William: I had to buy this  
Bill: WITH MY CARD,  
William: Yeah i did, Here! 
Bill: AND YOU RAN OVER MY FOOT TOO! 
Violette: William, william 
William: (Chuckles) Oh my god! 
Bill: YES! 
Violette: No, Listen! 
Bill: WHAT ARE YOU, AN IDIOT! 
Plot
The video video starts with William wanting to go to GameStop to buy a new GTA V disc after his dad shredded it in DAD SHREDS SONS GTA 5 DISK!!!, but Bill says no. Violette gets her keys to go, but Bill takes them and says she isn't going. William took his dads keys and is gonna go there himself. As he drove away with the truck, Bills foot got into the tires and it crushed his feet. However, William did try to go to GameStop, but they were closed. So it ended with him going to Walmart to get a new GTA V disc. When William returned, he even started laughing about his dad's foot getting crushed.
Trivia