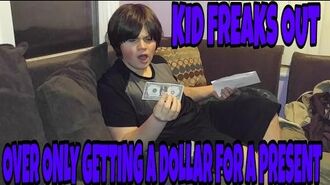 William gets a envelope from Lucy. He was hoping for $25, but he gets $1 instead. When he calls Lucy, she said that she put the dollar on purpose to get revenge for when he slammed a cake in her face in KID SMASHES CAKE ON SISTERS FACE ON HER BIRTHDAY!!!. He gets mad and burns the envelope in anger.
Ad blocker interference detected!
Wikia is a free-to-use site that makes money from advertising. We have a modified experience for viewers using ad blockers

Wikia is not accessible if you've made further modifications. Remove the custom ad blocker rule(s) and the page will load as expected.