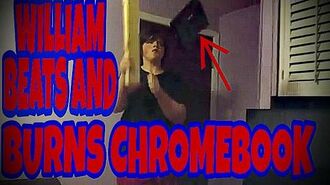 Violette wants William to do his homework on his computer, but he refuses and wants to play games. So Violette gets her Chrome Book and tells her she has to do it there. William disagrees and says it's a Net Book. After some arguing, William has had enough and beats the computer, breaking the screen. He then finishes it off by burning it.
Ad blocker interference detected!
Wikia is a free-to-use site that makes money from advertising. We have a modified experience for viewers using ad blockers

Wikia is not accessible if you've made further modifications. Remove the custom ad blocker rule(s) and the page will load as expected.