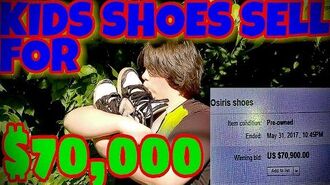 The bid on the shoes in MOM AUCTION'S SON'S SHOES ON EBAY FOR A PENNY!!! and it ended with $70,900. When William finds out, he gets overexcited and that he was gonna be rich, but Violette explains to him that eBay takes some of the money and plus, the family needs to split the money to make it fair. William doesn't care and even stalls to do chores because he will get thousands of dollars.
Ad blocker interference detected!
Wikia is a free-to-use site that makes money from advertising. We have a modified experience for viewers using ad blockers

Wikia is not accessible if you've made further modifications. Remove the custom ad blocker rule(s) and the page will load as expected.