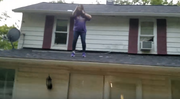 The house is a house the Violette1st family lives in. While we can't tell the exact location for the safety of the family, we know it's in Mount Airy, Maryland. The house is a 2 story building. When entered from the front door, you enter the living room. Going west there will lead to another room, which Violette uses as an office, formerly Lucy's room. West from that is another room, which is Andy's room. North from the living room is the kitchen, and south from that is the one and only bathroom in the house. The kitchen also has a door that leads to the porch. Upstairs are the rooms. One is William's room and another is Bill and Violette's room. The porch leads to the yard, which has a shed and a pool.
Ad blocker interference detected!
Wikia is a free-to-use site that makes money from advertising. We have a modified experience for viewers using ad blockers

Wikia is not accessible if you've made further modifications. Remove the custom ad blocker rule(s) and the page will load as expected.