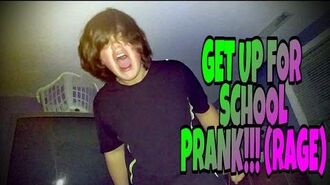 William stayed up at 4:00 AM playing on his Xbox and violette wants to get him back up. so she tried to wake him up at 6:00 AM telling him that it was Monday, December 5, 2016 instead of Sunday, December 4, 2016, and that it was a school day. This made William very angry and he would not get up, but his mom makes him get up. When he got breakfast, he accidently put cereal in the microwave, ruining the cereal. His mom tells him it was a prank and that makes William extremely angry.
Ad blocker interference detected!
Wikia is a free-to-use site that makes money from advertising. We have a modified experience for viewers using ad blockers

Wikia is not accessible if you've made further modifications. Remove the custom ad blocker rule(s) and the page will load as expected.