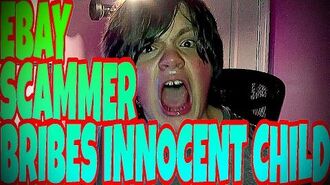 StupidistLivingOrgaism (the person who bidded the shoes) does not want to pay the $70,900 he owes from the shoes. Violette didn't know what to do, so she calls William for help. When William sees the user, he knows that it's to same guy who taped him at school in STALKED YOUTUBER LOSES IT!!! and he tells him to go away. He then bribes William at the shoes and he goes mad. Violette then insists that she handles it and William says that he hopes StupidistLivingOrgaism dies.
Ad blocker interference detected!
Wikia is a free-to-use site that makes money from advertising. We have a modified experience for viewers using ad blockers

Wikia is not accessible if you've made further modifications. Remove the custom ad blocker rule(s) and the page will load as expected.