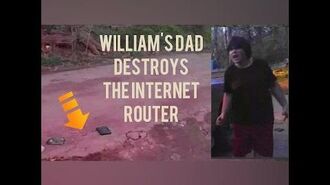 It's Spring Break, but William has a homework assignment to complete. However, William is raging at his Xbox and does not want to come down. His dad turns off the internet and runs over the router with the car. In the end, the two fight over the router.
Ad blocker interference detected!
Wikia is a free-to-use site that makes money from advertising. We have a modified experience for viewers using ad blockers

Wikia is not accessible if you've made further modifications. Remove the custom ad blocker rule(s) and the page will load as expected.