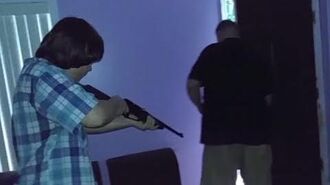 Dad shot by son in butt is a video posted in violette1st and is the 59th video in the William's raging series playlist
Plot
The video starts with William mad because for the past few days his dad has been using his xbox after destroying his TV. He does get it, but his dad took his controller. But right when he goes outside, William shoots him in the butt. Bill proceeds to drive away, but he doesn't have the keys.
Bill's pain was bad enough to have ice put on it. William calls it ridiculous and takes the TV to play xbox.
Trivia
This is the second time Bill yelled. The first was "WILLIAM'S PARENTS SHOOT AND DESTROYS XBOX ONE"