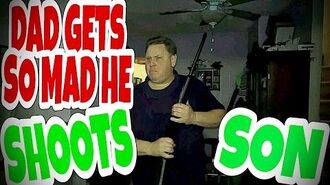 Plot
Violette shows Zack's new PAW Patrol collection. He also has candy just for Zack for when they go on a trip. Meanwhile, William and Bill want it, but Violette says no. Plus, William needs to eat healthy. William then said "Mom, I'm not gonna end up a fat**s like him!" and Bill and Violette went crazy. So crazy that Bill shot William in the butt. William goes crazy and shoots him in the butt back to make it even. They then fight over the ice pack.
Ad blocker interference detected!
Wikia is a free-to-use site that makes money from advertising. We have a modified experience for viewers using ad blockers

Wikia is not accessible if you've made further modifications. Remove the custom ad blocker rule(s) and the page will load as expected.