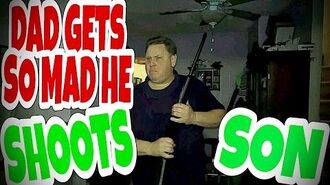 Plot
Violette shows Zachary's new PAW Patrol collection. She also has candy for Andy and William for when they go on a trip. Later, William and Bill find it and eat it, and Violette gets mad. Plus, William needs to eat healthy but refuses because he hates vegetables. William then said "Mom, I'm not gonna end up a fatass like him!" and Bill and Violette went crazy, so crazy that Bill shot William in the butt. William goes crazy and shoots him in the butt back to make it even. They then fight over the ice pack.
Triva
Violette is worried about the children crying so she said that she took over Williams easter baskets after the easter bunny stopped.
In this video Violette got a lot of hate because of her screaming and fast talk.
This is the second time Bill has been shot in the butt with a BB gun since DAD SHOT BY SON IN BUTT OVER XBOX!!!
This is the first time William calls Bill a "Dingbat."