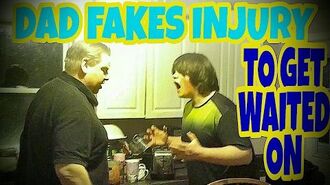 The video begins with Bill still needing a cast. William does care and try to help him. As the two were gonna tell Bill they were having family night, they both overheard him saying to a friend that he faked the feet and made him do these things. This makes them mad and when Bill asked for coffee, William added ingredients to make it taste bad. The rest of it involves them scolding Bill to not fake injuries.
Ad blocker interference detected!
Wikia is a free-to-use site that makes money from advertising. We have a modified experience for viewers using ad blockers

Wikia is not accessible if you've made further modifications. Remove the custom ad blocker rule(s) and the page will load as expected.