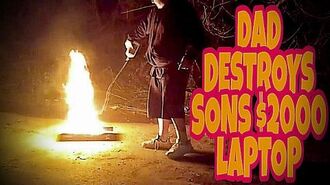 It's April Fools Day and Bill wants to prank William. Violette says Bill took his laptop and that William needs to find it. While he's looking, Bill got the box that came with the laptop and set it on fire. William freaked out and put out the fire while Bill said he deserved it. Violette then said that he didn't burn the laptop and that the laptop was in the trunk. William gets even more furious and locks Violette and Bill out the house.
Ad blocker interference detected!
Wikia is a free-to-use site that makes money from advertising. We have a modified experience for viewers using ad blockers

Wikia is not accessible if you've made further modifications. Remove the custom ad blocker rule(s) and the page will load as expected.