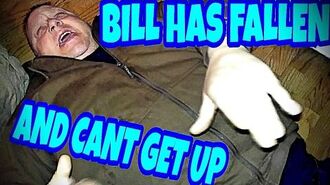 After going to a resturant, William and Bill argue over who should go to the bathroom first. After some arguing, Bill dashes in first, but he falls and can't get up. William laughs and the family tries to get him up.
The title reminds the famous LifeAlert line: Help! I've fallen and I can't get up!
Ad blocker interference detected!
Wikia is a free-to-use site that makes money from advertising. We have a modified experience for viewers using ad blockers

Wikia is not accessible if you've made further modifications. Remove the custom ad blocker rule(s) and the page will load as expected.