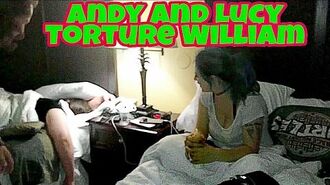 William is trying to upload a thumbnail for the Florida fan mail video but Andy, Lucy and Zachary are annoying him whilst Violette is continuing to pressure William to upload the fan mail video. Andy messes around in a cupboard but not before he offers a challenge to everyone for a chocolate bar. Lucy wins the chocolate bar and shares it with Zachary. William wins the next challenge and then Andy gives Violette some chocolate as well rescues Zacharys book and hides and comes out of a closet. William also becomes increasingly frustrated and tired even shooing Zachary away when Lucy said he could sleep with him. Lucy lies about William swearing or perhaps he did... and when William gets even more mad Violette threatens to carry on the video but ends it anyway.
Ad blocker interference detected!
Wikia is a free-to-use site that makes money from advertising. We have a modified experience for viewers using ad blockers

Wikia is not accessible if you've made further modifications. Remove the custom ad blocker rule(s) and the page will load as expected.