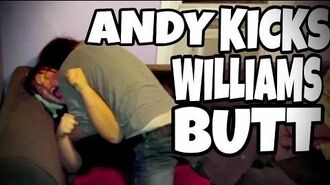 Violette wants to go to church service this Christmas Eve, but William doesn't want to. He says that music was stupid and so was Andy and his hat. This triggers Andy and he puts a sock on his mouth led William to put soap in his mouth . He spills water on William and even crushes him with a door. Violette keeps telling Andy to stop, but he doesn't listen.
Ad blocker interference detected!
Wikia is a free-to-use site that makes money from advertising. We have a modified experience for viewers using ad blockers

Wikia is not accessible if you've made further modifications. Remove the custom ad blocker rule(s) and the page will load as expected.